This was an extremely easy craft that just hit me as I was walking around Wal-Mart and caused me to immediately leave and head to the Dollar Tree. I thought of how I could make jingle bell doorknob hangers with bangle bracelets, curling ribbon and large jingle bells. Each jingle bell hanger cost me approximately $1 and I made them myself, I like that.
Materials Used
:
Sparkly Bangle Bracelets (3 in a pack for $1)
Sparkly Curling Ribbon (3 colors for $1)
Large Jingle Bells (Pack of 9 for $1)
Scissors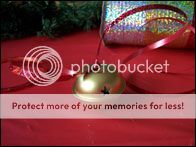 Start by pulling a length of ribbon off the roll and tie the end to a large jingle bell leaving about 6 inches for curling. Use your scissors for curling your ribbon by pulling the ribbon between your thumb and the blade of the scissors. Hold your bell by the ribbon and tie onto the bangle braclet allowing it to hang approximately 6 inches from the braclet bottom, cut off about a foot length for curling. Do this to 3 bells, each one hanging 2 inches below the other until you have what you see in the photo below.
Curl each length of cut off ribbon and you are finished. I did add an additional 2 foot of ribbon tied and curled in the center to make the curls look fuller. You can add as many lengths of ribbon and curl as you want.
This craft takes about 10-15 minutes from start to finish and will look quite nice hanging from your doorkknob this Christmas season. Happy Holidays!
Kemi Doran